Dorel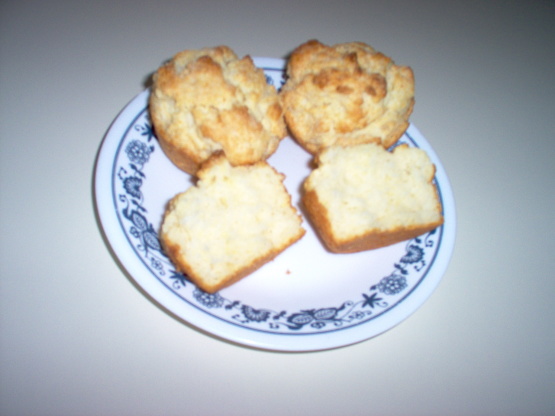 Are they muffins or biscuits?? Only 5 ingredients, one bowl and a muffin pan. What could be easier? These muffins taste exactly like heavenly, light, baking powder biscuits. They are sinfully rich and oh, so delicious! So much easier than messing up your kitchen with rolling pins and flour allover the counter. Tip: These brown better without using paper liners.

I did 1 T of sugar instead of 3. I also put a bit of garlic powder and dried basil on them before putting them in the oven and sprinkled a little salt after I took them out. They were great with soup. I think next time I'll try adding cheese as well.
Preheat oven to 400 degrees.
Grease one 12-cup muffin pan (2&1/2-inch size).
In large bowl combine flour, sugar and baking powder.
Cut butter into thin slices and add to dry mixture.
Using a pastry cutter or low speed of your mixer, combine the butter with the dry mixture until it resembles coarse crumbs.
Stir in milk, with a spoon or fork.
Stirring only until flour mixture is moistened.
Batter will be thick and lumpy.
Spoon into muffin cups, dividing evenly between all 12 cups.
Bake for 20 minutes or until tops are golden brown.
When done, remove from muffin pan immediately.