Veromor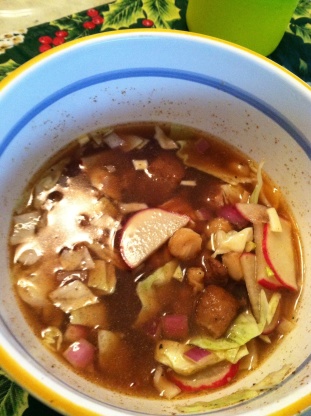 Pozole is one of the best known dishes of Mexico. Traditional pozole takes almost all day to cook but this version takes a little less time. The key to great pozole is slow simmering, this will allow the flavors to develop....

OH MY GOSH this is so good, I LOVE IT! My husband is hispanic and loves menudo, but I can't stand it, so I was looking for a good substitute and this is IT! I make this recipe EVERY week now! I like to add an extra can of hominy too. Definately add the squirt of lime, chopped fresh onions and cilantro before serving, that really makes this even more delicioso! mmmmm YUM!
Heat oil in a large dutch oven over medium heat. Add pork and cook, turning until browned on all sides.
Remove the pork with a slotted spoon and keep warm.
Reduce heat to medium and add onion and garlic to the pan, cooking just until onion softenes.
Return pork to dutch oven and add the chicken broth, oregano, salt and chili.
Reduce heat to low, cover, and cook for about 90 minutes.
Add hominy and cook for 15 more minutes.
Check seasonings and add more chile powder or salt according to taste.
Ladle into soup bowls.
Serve with hot corn tortillas and garishes.
GARNISHES: thinly sliced radishes, shredded lettuce, finely chopped onion, chopped cilantro, lime wedges.