South of the Border Casserole
ErikaNY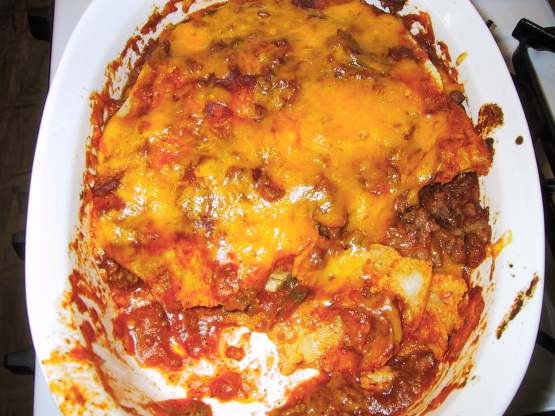 An easy and family pleasing casserole that's on the table in less than 45 minutes. I serve this with a guacamole salad, or a green salad with slices of avocado.

i have made this recipe twice and we just love it for a quick dinner when everyone is on a different schedule, the flavors get stronger as it sits. i made it as written the first time, and used chili i had made the second time, both times it was great, this is easily adaptable and delicious family fare
Preheat oven to 325 and grease 1 1/2 qrt casserole dish.
Brown meat and drain.
Add onion and jalapeno (if using) and cook with meat until tender.
Stir in tomato sauce and seasonings.
Layer one-third of meat mixture, cheese and one half of tortillas in casserole dish; repeat layers, ending with cheese.
Bake at 325 for 20 minutes.
Note: Corn tortillas will soften and absorb the sauce.
These are recommended.
Flour tortillas will expand and the casserole will be too doughy-therefore flour tortillas are not recommended.