South of the Border Burgers
CandyTX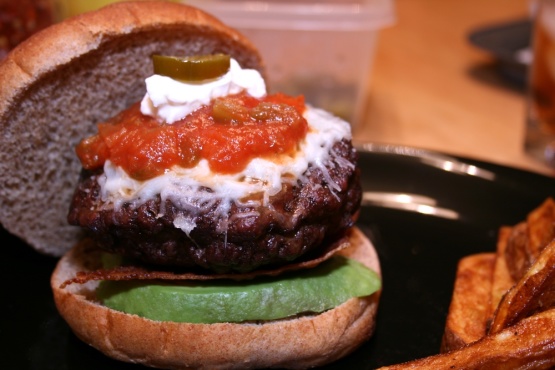 This is a very tasty burger! You have to be careful when cooking them - without egg and fill they are delicate. Add whatever other toppings you want. You need good sized buns for these burgers to hold all the condiments
1 1⁄2 lbs lean ground beef, more if you want larger burgers

6

tablespoons refried beans

2

jalapeno peppers, seeded, deveined and finely chopped (or milder)

4

tablespoons sweet onions, chopped

4

tablespoons hot salsa

4

slices mozzarella cheese (or other cheese)

8

mushrooms, cleaned & sliced

1

avocado, peeled, pitted and sliced

4

tablespoons sour cream (optional)

1

medium tomatoes, washed and chopped

4

slices crisp fried bacon, crumbled

4

long Italian rolls (or regular hamburger buns)
salt & pepper
Divide the hamburger into 4 equal portions and make two patties from each portion (if using Italian buns make the patties oblong to fit the bun) On 4 of the 8 patties put a tbsp of refied beans, sprinkle on some jalapeno pepper and a tbsp of onions, salt& pepper Place the second pattie on top and firmly seal.
Really pat them so they won't fall apart while cooking.
If BBQing I recommend that you use a stir fry pan or use a solid grill to cook them in/on to ensure they do not end up as the fuel for the BBQ.
These burgers are delicate because there is no filler in them.
Or pan fry When the burgers are cooked on one side (apprx 6 minutes) flip and.
add mushrooms, cover with a lid and finish cooking.
Slit the buns and start toasting one side, when browned slightly add cheese and continue heating until the cheese has melted Assemble the Burger, Butter the bun if you wish, put in the bacon& mushrooms then the burger, top with the salsa, avacado& sour cream.