South Indian Cabbage and Carrot
ImPat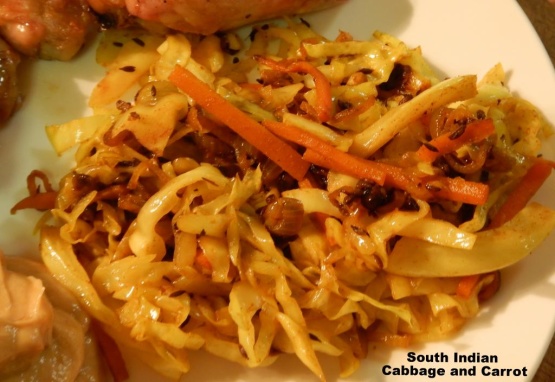 My mother-in-law taught me this simple, yet delicious dish. It works well with many different types of cuisines, and currently is the only way I can get my husband to eat cabbage.
2

tablespoons rice bran oil
1 1⁄2 teaspoons whole cumin seeds

1

cup chopped red onion
1⁄2-1 teaspoon split Thai green chili (this really is just 1 green chili cut in half lengthwise)

1

teaspoon turmeric

1

cup carrot (cut into sticks)
2 1⁄2 cups shredded white cabbage
1⁄2 teaspoon salt
Prepare chopped red onion and green chili, and set aside.
Over medium-high heat, heat the oil in a large pan. Once oil is hot, put in cumin seeds -these will start to sizzle and pop immediately. When they do, give them a stir and then add in the onion and green chili. Reduce heat to medium and cook mixture until slightly browned.
Add tumeric to onion mixture and incorporate well.
Add carrots, and stir well to coat. Reduce heat to medium-low and cook covered for 5 minutes, stirring occasionally.
Add cabbage and salt, carefully folding it in so that as much as possible has come in contact with the carrot mixture. Cover, and cook for 10-15 minutes, stirring occasionally until cabbage is soft and everything is incorporated. Serve.