CandyTX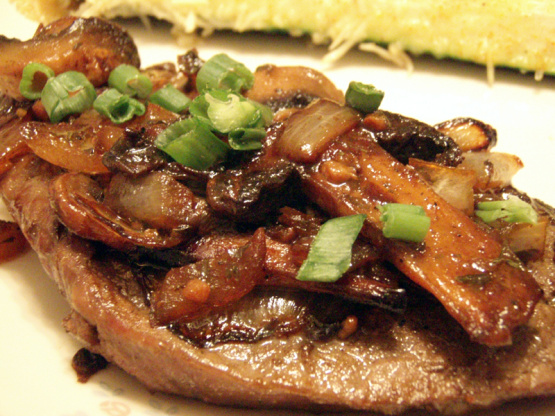 This main meat dish is so flavorful and delicious; you can serve this to your family or dinner guests who won't guess that they are eating a recipe out of a "diet" cookbook. This recipe can be eaten during Phase 1 of the diet. Recipe courtesy of the South Beach Diet Cookbook.

This was quite good. I'll definitely be making this one again. I used sirloin steak - it's all I had, and I substituted green onions for the chives. Thanks for the great recipe!
Place each 3 oz piece of tenderloin between wax paper and pound with a mallet until the steak is about 1/2 inch thick.
Pat meat with paper towel to dry; season with salt and pepper.
In a large skillet, melt 3 Tbsp of the margarine and cook meat on medium to high heat for 2 minutes on each side.
Remove the meat from skillet onto a plate and keep warm.
In the same skillet, melt 2 Tbsp of margarine and saute the mushrooms, onion and garlic until veggies are semi-soft.
Add the mustard powder and Worcestershire, mixing well.
Add the meat to skillet and cook until meat is done to your liking.
Remove the meat and keep warm; combine lemon juice and parsley in the skillet and cook until warmed.
Pour sauce over the meat and garnish with chives; serve.