South Beach Peanut Butter Cookies
Kris10Ed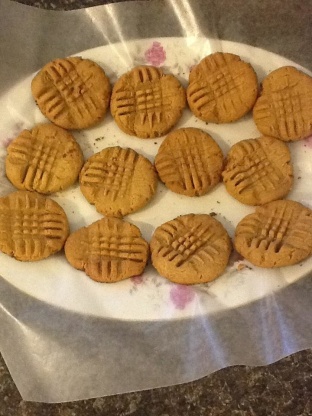 This is a good Phase 1 recipe that will satisfy those cookie cravings!

These were so good I'm ready to cry. I will definitely make them again. After reading the other reviews, I modified the recipe a bit. I used 3/4 c. Splenda brown sugar substitute, rather than the 1 c. recommended. I also ground up a handful of peanuts and threw them in. After being on Phase 1 for 9 days, I'm starting to realize that many of the foods I used to eat are way too sweet. I'm rating this recipe 4 stars because, although I reduced the Splenda, I thought they were a bit too sweet. Next time, I'll try 1/2 c. brown Splenda instead. Also, you didn't say what type of peanut butter to use (I used Smart Balance creamy.) But seriously, thank you so much for this recipe. You have no idea how much I enjoyed it.
Preheat oven to 350 degres. Mix the three ingredients thoroughly. Drop by spoonfuls on a cookie sheet. Dip a fork in Splenda and press gently on top of cookie.
Bake for 10 minutes. Remove from pan carefully after cooling slightly. Enjoy!