South Beach Oatmeal Pancake
bub1150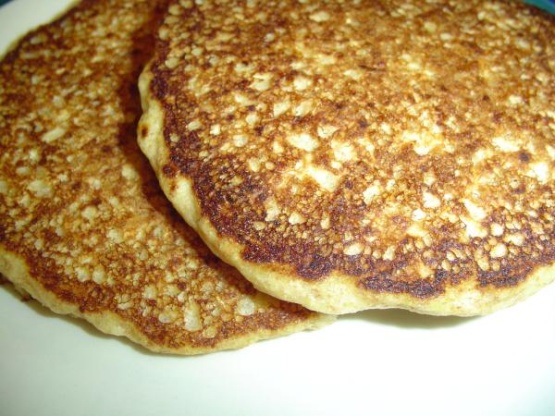 This big pancake can be eaten during Phase II of the diet and is very filling. You can use a low sugar syrup if you would like; I prefer it with just a few spritzes of trans free margarine spray and a few sprinkles of Splenda. This recipe is courtesy of The South Beach Diet book.

Great recipe for South Beach, but these pancakes tend to be very dense. I amended the recipe for light, fluffy pancakes which won't leave you missing the 'real' pancake experience. Here's how: Mix everything BUT 3 eggs white in a small food processor. (Can use a blender, but the mix is too thick and doesn't blend well. If you use a blender, add about 1/4 cup 1% or skim milk to loosen it.) Add a packet of Splenda to sweeten the mix. Put the oatmeal mixture into a mixing bowl. Beat the remaining 3 egg whites to soft peaks, add a packet of Splenda, then beat just until the whites firm up to hard peaks. Take 1/4 to 1/3 of the beaten whites and mix it into the oatmeal mixture to loosen it. (Adding it all will deflate the whites.) Then gently fold in the remaining beaten egg whites. Cook as usual, and you have delicious, light, airy pancakes without the carbs! For a 'syrup', I put fresh or frozen fruit (Phase 2-friendly) into a small saucepan over medium-low heat. Sprinkle on one packet of Splenda and heat so it releases juices, usually mashing the fruit a bit to extract more. Heat until the juices thicken and keep warm until pancakes are done. For an added touch of richness, I'll add a small dollop of butter to melt into the fruit at the end. And it's easy to play with this 'syrup'. With blueberries, add some grated lemon peel. With peaches, add a little orange peel. Have fun with different flavors and enjoy some good-for-you, 'decadent' pancakes!
In a blender or a food processor, blend together all ingredients until smooth.
Spray a medium sized skillet with cooking spray and set heat to medium.
Add the pancake batter to skillet and cook until sides are lightly browned.
Top with a low sugar syrup, trans free butter and/or a few sprinkles of a sugar substitute and serve with fresh fruit; blueberries or strawberries are allowed and would go nicely.