South Beach Diet Oatmeal Pancakes
jVo6236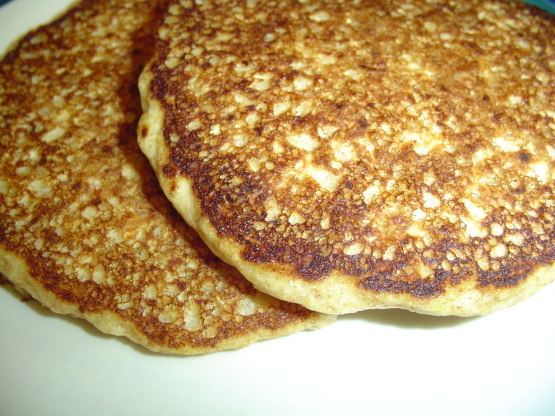 From the South Beach Diet cookbook. This is a phase II recipe.

Top Review by kekeni
I first tried this recipe when I was living overseas (where wheat germ, among other things =) was very expensive) - so, I would make this without the wheat germ and put either extra oats of extra flour in the recipe to replace it. Sometimes it was still too watery so I'd just decrease the milk. I LOVE this recipe and make it all the time! It works best when you let the oats soak in the milk for the full 10 minutes (or longer) to get a thicker batter (which I tried to skip out on once in awhile because I was hungry or in a hurry!). Now that I'm back in America, I love topping them with a little sugar-free maple syrup, although I think they're wonderful plain as well! Oh - I also have tried adding either a teaspoon of vanilla extract or cinnamon just to change it up a little. Yummy, delicious, and nutritious.
In a medium bowl, combine oats and milk and allow to stand for 10 minutes.
(You can also process this in a blender for a smoother consistency).
Stir in egg, flour, wheat germ, baking powder, sugar substitute, oil, and salt.
Whisk until smooth.
Let batter stand for 30 minutes in the refrigerator.
Heat a large non-stick skillet or griddle; spray with cooking spray.
Pour batter by 1/4 cupfuls onto skillet or griddle; cook until the top starts to bubble and the bottom is browned.
Turn and cook another 1-2 minutes.