South Beach Diet Grilled Salmon With Artichoke Salsa
2Bleu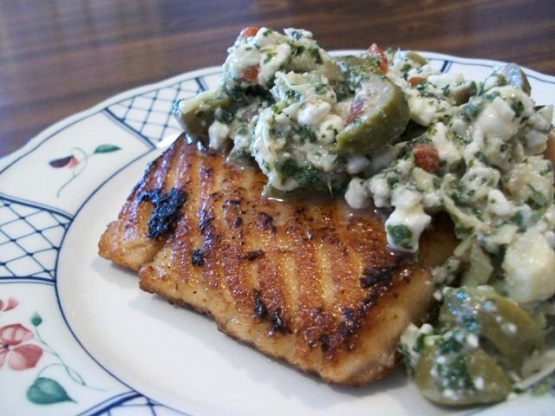 This is a delicious, healthy, & easy recipe. I served it on top of mixed salad greens with grilled asparagus. I used the full salsa recipe for 2 servings, so there was no need for additional salad dressing. I substituted capers for black olives in the salsa. I layered the ingredients on our plates; greens, asparagus, salmon, salsa. Sorry I didn't take a picture....it was so pretty!
Preheat grill to medium heat. Mix dressing and lemon juice. Pour half of the dressing mixture over salmon in large resealable plastic bag. Seal bag; refrigerate while preparing the salsa.
Combine remaining dressing mixture, parsley, tomatoes, artichokes, cheese, and olives. Let stand at room temperature until ready to serve.
Remove salmon from the dressing mixture; discard bag and dressing mixture. Grill salmon 5 minutes on each side or until salmon flakes easily with fork. Serve with the salsa.