South Beach Diet Bacon Egg Muffins
NELady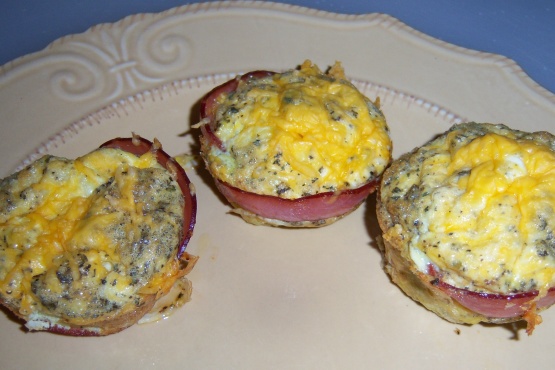 Just starting the south beach diet and I wanted something that traveled well for breakfast. This is a quick and easy recipe. Very yummy too. It comes out in a neat little package that travels well...but make sure you cover the item when reheating in the microwave.

Awesome idea...I put a twist on it. Here it goes. I had a muffin pan that could make 12. Sprayed well with Smart Balance Cooking Spray. So I placed a slice of canadian bacon in each. I then put a teaspoon of Medium Salsa on the bacon. I beat 8 large eggs with salt and pepper. I then got a dipper and poured the beaten eggs over top of the bacon and salsa. Once I did that I covered each with parmesam cheese and a little oregano. Cooked until eggs started coming away from sides of pan. Delicious!!!
Preheat oven to 350.
In an x-large muffin pan, spray each muffin cup with Olive oil cooking spray.
Place one piece of Canadian bacon in the bottom of each muffin cup
Crack an egg over the piece of bacon in each muffin cup. Sprinkle the Italian seasoning and pepper over the egg in each muffin cup.
Sprinkle the cheese over the egg in each muffin cup.
Place in preheated oven and cook for 15 minutes or until the cheese is slightly brown on top.