South Aussie Lamb Yiros (Or Gyros, Souvlaki, Kebabs, Doner Kabab
Peter J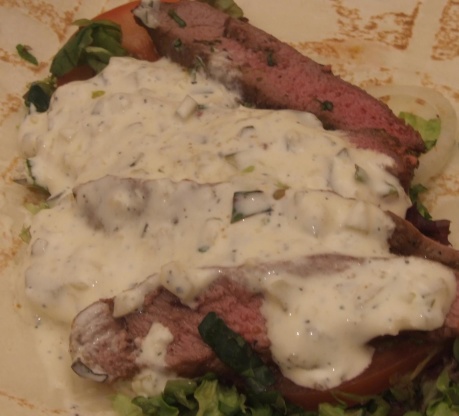 This is a Greek street food that is very popular in Australia. In each state you will find it called something different however South Australia seems to be the only one to use the term 'yiros'. It is a popular late-night feast after a big night 'on the grog'. The standard salad ingredients are lettuce, raw onion and tomato topped with a garlic (but not tzatziki) sauce. Tabbouli, cheese and chili sauce are also popular fillings as are chicken, beef and falafels. Which ever meat is used it is cooked by stacking thin slices of marinated meat on a vertical skewer which turns in front of a heat source. The meat is then carved vertically from the skewer so the meat is in very thin shards. This is my version. I have used tzatziki as I have yet to discover the secret of South Aussie garlic sauce! Australian measurements used.

Go South Aussie! Chef #892... Local Gaganis Bros have the trade mark, etc. Probably export to a good grocer near you? If not http://www.gaganisbros.com.au/go/our-products/nostimini Good luck!
240

g lamb, backstrap

1

tablespoon nostimini herb mix

1

tablespoon olive oil

2

large pita bread (labelled Greek Yiros in SA)

1

medium tomatoes
1⁄2 small onion
1⁄4 small lettuce

2

tablespoons tzatziki
Slice lamb into very thin strips. Place in a plastic bag together with the olive oil and nostimini blend. Massage to make sure the oil and nostimini has coated all of the meat. Allow to marinate for minimum of 30 minutes.
While lamb marinates thinly slice tomato and onion. Shred lettuce. Set aside in fridge.
Cut 2 foil sheets 10cm (4") larger all around that your pita bread. Cut 2 baking paper sheets the same size as the pita. Place one sheet of baking paper on top of each sheet of foil.
Heat 2 frypans to med-hot.
Lightly spray one side of a pita with cooking spray and place this side down on one fry pan. Spray the other pan with cooking spray and stir-fry half the meat until cooked. (Do not allow to stew - crusty bits are good.).
When meat is ready remove from heat. Place one foil/paper stack on a plate.
Working quickly, remove pita from heat and place on the paper with toasted side up.
Now place the meat then half the salad items and tzatziki down the middle of the pita. Use the paper to tightly roll each side of the pita into the centre ensuring one side crosses the other. Roll package in the foil. Twist the bottom of the foil to catch the juices.
Repeat with remaining ingredients.
Serve with plenty of napkins!