South American Style Red Snapper
jenne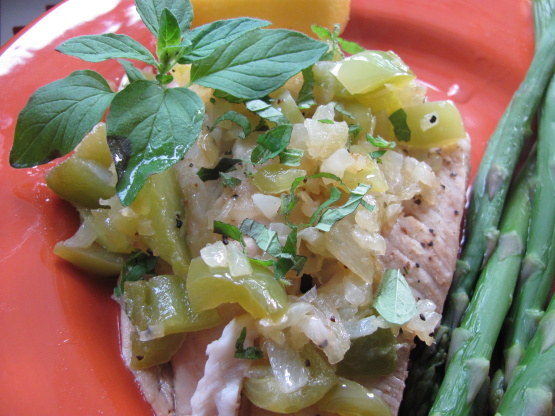 An easy pan-braised fish dish with traditional Latin American flavors. This is how snapper is served in Colombian restaurants. Serve with boiled potato, boil yuca, rice and beans.

HA, this is too easy, with delightful results, even though I omitted the coriander due to not hving any on hand!

Made for ZWT Mischief Makers!
If using whole snapper (cleaned) cut about 4 slits through skin on each side.
Season, inside and out with salt and lemon juice; cover and refrigerate 20 minutes.
Meanwhile heat olive oil in a large skillet (large enough to fit the fish) over medium heat and sauté onion, pepper, and garlic until softened, about 10 minutes.
Add chicken broth to skillet and stir.
Remove fish from refrigerator and rinse thoroughly under cold water and pat dry.
Nestle the fish in the skillet and cover.
Let cook 15 minutes, then carefully turn and cook an additional 10 - 15 minutes.
Transfer to serving platter, spoon veggies on top, pour sauce all around, and sprinkle with oregano and cilantro; enjoy!