South American Hot Chocolate (With Chillies)
Syrinx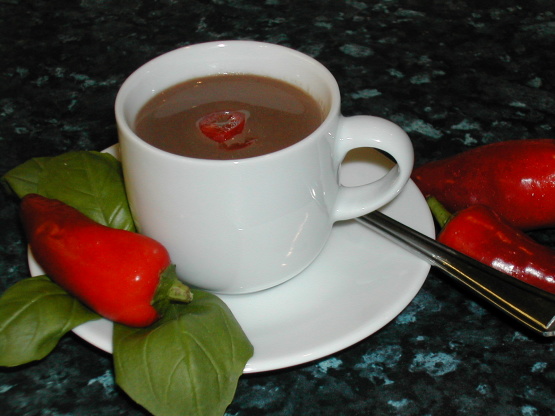 Fantastic. Serve in espressor or demitasse size cups. A full coffee cup is way too much.

Top Review by Syrinx
Delish! Fabulously rich and decadent. I checked with SolightlyUK and substituted a good-quality dark chocolate for the one specified, since I don't have a Waitrose branch near me. The chilli flavour is subtle (at least with the variety of chilli that I used) - in fact, I'm not sure people would guess what it was if they weren't told. The chocolate mixture is rich and decadent, thickening into a glossy bliss as it reheats. So good, you have to try it!
1000.0

ml whole milk

200

g waitrose continental chocolate, broken into small pieces

200

ml single cream
Pour the milk into a saucepan. Carefully slice the chillies in half lengthways and deseed, leaving the stalks attached in order to remove them from the milk easily. Add to the milk.
Slowly bring to a shivering simmer. Remove from the heat and infuse for 10 minutes, so that the milk takes on the chilli flavour. Reheat the milk, add the broken chocolate and cream and stir on a low heat until the chocolate is dissolved. Remove and discard the chillies. Serve garnished with a slice of fresh chilli.