South American Casserole (With a North American Twist)
Prep 30 mins
Cook 30 mins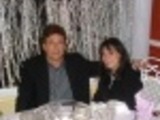 This dish is a quick version of the South American hallacas, which is a cornmeal dough wrapped around a spicy meat mixture. This version adds a little Tex-Mex taste to the dish.
Directions
Preheat the oven to 350 degrees. In a medium bowl, prepare the corn muffin mix according to the package directions, but do not bake; set aside the batter.
In a large skillet, saute the ground meat and drain well, reserving 2 T. of the drippings in the pan. Saute the onion and green pepper in the drippings over medium heat for about 4-5 minutes, or until soft. Return the drained meat to the pan and add the soup, garlic powder, and raisins; mix well.
Pour the mixture into an 8-inch-square baking dish that has been coated with nonstick vegetable spray. Spread the corn muffin mixture evenly over the meat mixture. Bake for 30 minutes or until the muffin topping is firm.
Reviews
Most Helpful
I had a few 'problems' with the ingredients... I used a Jiffy Corn Muffin Mix copy cat recipe as we don't have corn muffin mix in Australia and I found it too sweet even though I cut back on the amount it called for. And the Tomato Soup I used was also too sweet for my tastes. Despite a bit of a sugar overload I really enjoyed this dish and will be trying it out again after adjusting these issues. I used vegan mince for the ground beef. Made for ZWT 7 (The Hot Pink Ladies)