South African Spicy Melon Salad
loof751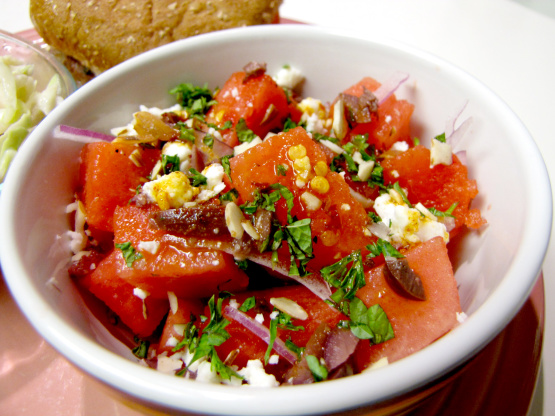 Spiced with Harissa, serrano chilies,black olives and cumin topped with feta cheese and almonds. A delightful warm weather salad. This is a recipe I put together for ZWT-7, Africa.

Very interesting and tasty salad! I made as directed but left the onions off my serving (don't care for them); next time I think I'll leave the olives off too as I thought the salad was better without them. The mint was a nice complement to the spicy dressing and sweet melon. Thanks for sharing your recipe!
In a small bowl, whisk the oil,lemon juice,spices and salt/pepper, allow to set in refrigerator at least 1 hour.
Arrange watermelon chunks on individual serving plates, sprinkle with onion,parsley,mint,olives and feta, drizzle dressing on top.
Top with almonds if desired.