South African Malay Curry
rpgaymer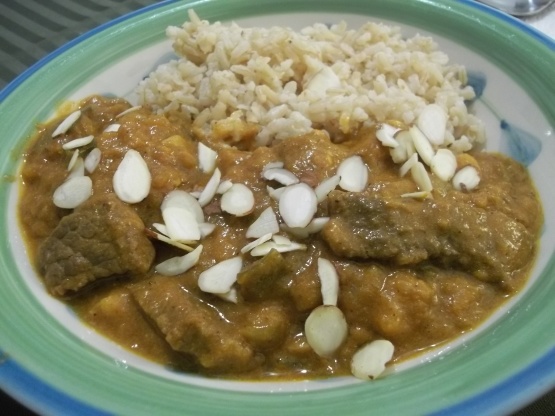 Posting this for ZWT 2006, this is a typical South African Curry. For those who dislike Coconut Milk in curries try this one; it is coconut milk free. This is served over rice or with a bread such as Chapatis.
44.37

ml cooking oil

2

medium onions, sliced (about 1 1/2 cups)

1

garlic clove, minced

1

small piece fresh gingerroot, peeled and crushed (or 1 tsp. ground Ginger)

4.92

ml turmeric

4.92

ml coriander

4.92

ml cumin

2.46

ml cinnamon

7.39

ml curry powder (or more, to taste, I use LOTS more)

2.46

ml clove

907.18

g lamb (or beef)

226.79

g eggplant, cubed

1

sweet green pepper, cleaned and chopped

236.59

ml dried apricot, soaked in warm water and drained

170.09

g tomato paste (one small can)

4.92

ml vinegar

473.18

ml beef broth or 473.18 ml stock

118.29

ml apricot jam

236.59

ml plain yogurt or 236.59 ml buttermilk
Heat the oil in a large pot; over high heat, fry the onions and garlic, stirring continuously; add the spices and continue stirring for a minute.
Reduce heat slightly; add the meat and fry it until it is browned on all sides; (this may be easier if you remove the onions and set them aside, then return them to the pot after the meat is browned.).
Add all remaining ingredients except the apricot jam and yogurt (or buttermilk).
Cover & Reduce heat; simmer on low heat, stirring occasionally, until everything is tender, approximately an hour.
Stir in jam and yogurt (or buttermilk) a few minutes before serving.
Serve with traditional Curry Garnishes such as Chutney, Peanuts, sliced Bananas and dates.