South African-Greek Cheese Pie
Zurie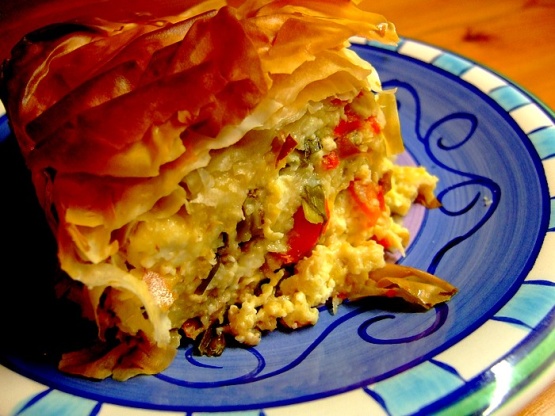 This very delicious pie is my version of the Greek Tiropita, tweaked considerably. Please note that substitions can be used, i.e. pine nuts instead of walnuts, and I think pickled red bell peppers will work instead of piquante peppers (peppadews), although nothing approximates the wonderful tang of piquante peppers. Metric weights and measures are given in brackets. Try and find smoked mozzarella -- it does make a difference to the taste! It's an unashamedly rich pie, of course! Can be served as a vegetarian main dish with a healthy mixed salad, or in small portions with ovenbaked chicken pieces. If you use a larger dish, which will yield a flatter pie, don't cover the top with the phyllo (cover lightly with foil instead), and cut into small squares as a snack food. Prep time includes grating some of the cheeses.
3

tablespoons butter (OR olive oil)

7

ounces feta cheese, crumbled (200g)
3 1⁄2 ounces cheddar cheese, mature, roughly grated (100g)
4 1⁄2 ounces mozzarella cheese, roughly grated, pref smoked (125g)

2

ounces pecorino cheese, roughly grated (50g. Parmesan or Grana Padano can be used)

2

ounces walnuts (50 g, roughly broken, or use pine nuts)

4 -6

tablespoons peppadew peppers, pickled, finely diced (OR use pickled, jarred red bell pepper)

1

cup spring onion, chopped, white and green parts (about 2 bunches)

2

tablespoons breadcrumbs, dried (shops often sell it)

3

eggs, largest size
1⁄2 teaspoon Tabasco sauce (or other pepper sauce)

2

tablespoons milk (or less, see directions)
Oven: 400 deg F, or 375 deg F for fan ovens. (200 deg C, 180 deg C fan ovens).
I used a 7" x 7" x 1 1/2" glass oven dish, which is small but just the right size. Oil dish very lightly.
Open the phyllo pastry, lightly butter or the top sheet, and line the dish. Don't cut off the overhang. Carry on like this, lightly pressing the next 2 sheets on to the previous ones. Leave the overhang as is.
Mix the cheeses, nuts, chopped peppers and spring onions in a bowl. Toss until well mixed but work lightly. Add the breadcrumbs and toss through.
Beat the eggs in a bowl until foamy, and add the Tabasco to the eggs if you are using it. Add to the cheeses, and mix through.
You will need very little milk -- this depends on your cheeses and eggs -- so as to "wet" the mixture but not saturate it.There should only be the tiniest bit of liquid on the bottom of the bowl if you lift the mixture.
Scrape into the phyllo-lined dish, and smooth top. Fold the phyllo overhang over the cheese, and oil the bits lightly. The overhang should be adequate to cover the pie. If it does not, it doesn't matter. (S A phyllo sheets are quite large, so it all depends on that!)
Bake in the pre-heated oven for 40 - 45 minutes, turning DOWN heat to 350 deg F/180 deg C after about 10 minutes, or less for convection/fan ovens. Watch that the top does not burn.
This is a rich dish, and can be a main vegetarian dish, with a nice salad. If you use a flatter dish, it can be cut into small squares as a snack.