South African - Curried Carrot Salad
Rita1652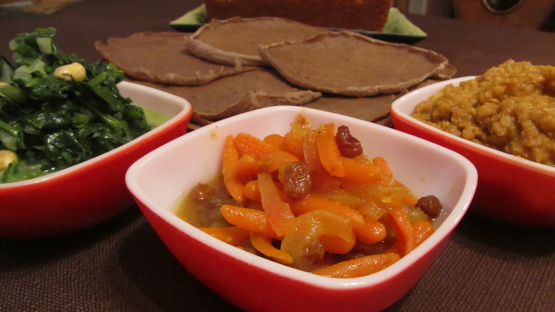 This recipe is also from the web site Rainbow Nation Connecting South Africa and has been posted here for the ZWT-7 Tour of Africa. Most South African BBQ's always have a number of salads to compliment the meats. This curried carrot salad is one example of the wonderful salads typically served.

This is terrific! I wasn't quite to sure what to expect from a sweet/sour/curried carrot salad but it blew my socks off. This has a an amazing flavor that is so very worth the cooking. I made this early in the day and chilled it till dinner and what a treat. This will certainly be making repeat performances around here :D.
Peel the carrots and slice thinly.
Cover the slices with water and boil just until soft then drain and set aside until needed.
Peel and halve the onions and slice thinly then cover the onions with boiling water and leave to stand for 15 minutes, then drain the onions.
In a large pot add the cooked carrots and onions, white vinegar, sugar, raisins, salt, cloves and black peppercorns and bring to a boil.
Mix the corn flour and curry powder with 1/2 cup of water.
Now add the curry mixture to the carrot mixture and let boil for 10 minutes, stirring occasionally.
Spoon the hot curried carrots into clean hot jars and seal immediately.