diner524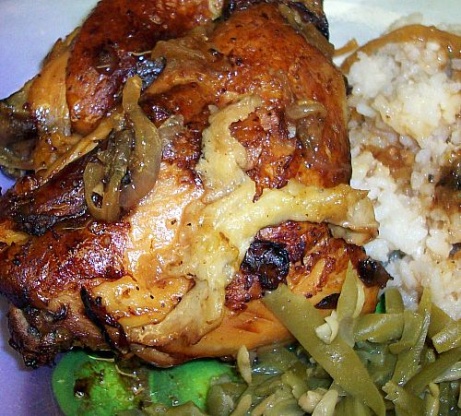 A few ingredients, but easy meal with fall-off-the-bone chicken. Requires overnight marinating. Comes from The Frantic Family Cookbook.
This is definitely fall off the bone good!!! I love that it uses ingredients I normally have on hand and so few ingredients but such tasty chicken. I made this using just under 2 lbs of chicken thighs and legs. I marinaded the chicken and then slow cooked it in the oven at 250 degrees for 3 hours and then removed the foil and cook another hour at 350, along with the rice side dish, to brown up the chicken skin and cook down the juices. Thanks for a great recipe SaucyCook. Made for Spring PAC 09.
In large zipper-type bag, combine onions, garlic, lemon juice, salt and pepper.
Add the chicken pieces and zip up the bag.
Roll the chicken around in the bag to coat.
Refrigerate over night to marinate.
Remove chicken from the marinade and pour the marinade into the crockpot.
In a skillet over medium-high heat, brown the chicken pieces in a little olive oil.
Transfer chicken to crockpot, putting the dark meat pieces on the bottom, white meat on top.
Cover with lid and cook on low-setting for 4-6 hours, or until chicken is thoroughly done.
When chicken is done, remove from crockpot and reserve, keeping warm.
Transfer the remaining cooking juices and onions into a skillet and cook for about 10 minutes, or until reduced by half.
Serve the chicken with brown rice and spoon the reduced sauce over everything.