South African Baked Rice Pudding
Prep 15 mins
Cook 45 mins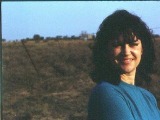 Posted for the Zaar Tour 2006. Qualifies because of milk content. Nice and comforting: keep this recipe for winter as well!
Directions
Heat oven to 325°F.
Heat milk and add the cooked rice.
Whisk egg yolks in a roomy bowl with the sugar and salt, then add milk mixture slowly.
With clean beaters, beat egg whites until stiff and then fold into rice/egg yolk/milk mixture.
Add the vanilla and lemon rind, and stir through.
Ladle mixture into a greased oven dish and bake about 40 - 45 minutes or until set.
Serve with any commercial syrup or syrup from bottled fruits. (The Zaar recipe robot would not allow me to state "Syrup to serve" in the ingredient list!).
Most Helpful
Wow, how did this go unreviewed since 2006?? i had cooked basmati so i used that. this is so light - i'm guessing from the egg whites. wonderfully custardy!! this came together quickly & baked while we ate dinner. perfect! cheers, Zurie, you are loved!