Sourdough Starter and Sourdough Rye Bread
PaulaG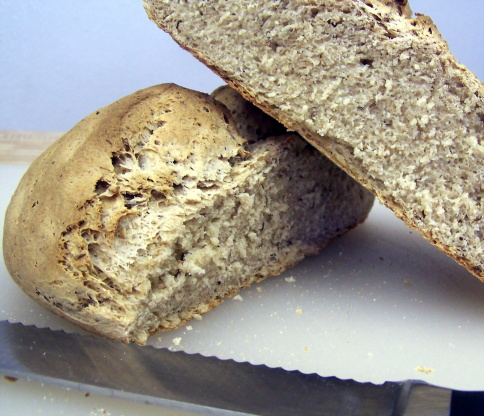 A very satisfying and tasty country bread from Eastern Europe, this is not difficult to make. The starter has to be left to ferment for a couple of days, so it does require a little advance planning. This makes 2 large loaves. Enjoy! Adapted from Classic Home Cooking. Prep time does not include time to make the starter or sponge, but does include rising time.

This is a excellent recipe for sour dough starter. I used it to make ciabatta bread and sour dough pancakes so far. Both turned out great. The most important thing to remember(which I had forgotten) is to let the starter come to room temperature before incorperating into a recipe. Thanks Sharon for this great recipe!
Make the starter:.
Put the flour into a large bowl and stir in yeast. Make a well, pour in the water and mix.
Cover tightly and leave at room temperature for 2 days. Or you could leave the starter in the refrigerator for up to 1 week.
Make the sponge:.
Put the rye flour into a large bowl, add 2 cups of sourdough starter and the water, and stir to mix. Cover tightly and leave at room temperature for 8 hours or chill in the fridge for up to 2 days.
Make the bread:.
Put the flour into a bowl, add the sponge mixture , yeast, measured water, caraway seeds(if using), and salt, and mix to a soft and slightly sticky dough.
Turn the dough into a large ungreased bowl, sprinkle the top with flour, cover loosely with oiled plastic wrap. Leave in a warm place to rise for about 2 hours, until doubled in size.
Lightly sprinkle 2 baking sheets with cornmeal. Turn out the dough onto a lightly floured work surface and punch down with your fist. Knead for 3-4 minutes, until smooth and elastic. Halve the dough and form each half into a round. Score the tops with a sharp knife.
Place on the baking sheets, cover loosely with oiled plastic wrap, and leave in a warm place to rise for 45 minutes or until they have doubled in size.
Place loaves in a 425*F. oven. Fill a roasting pan with boiling water and place at the bottom of the oven. Bake the loaves for about 35 minutes, until they are lightly browned. Tap the bottoms to see if the loaves are cooked; they should sound hollow. Leave to cool on wire racks. Enjoy!