Sourdough Rosemary Potato Bread
K1968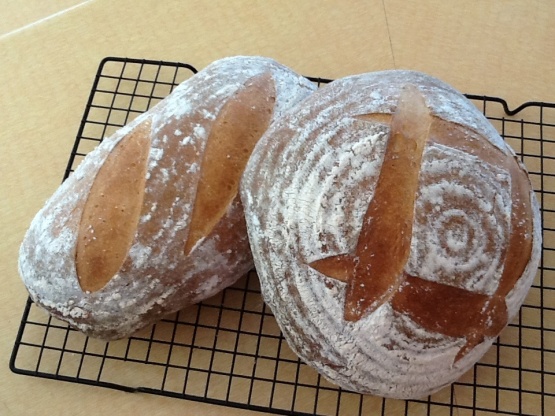 This makes 2 very large or 3 regular sized loaves. I like mine just shaped into a loaf and placed on a baking sheet, however I'm sure bread pans will work ok. This bread is very crusty on the outside (which if you don't like that just omit spraying with water) while nice and chewy on the inside. It can be tricky to bake as it tends to brown quickly so I place a foil tent over the loaves after they've baked for 15-20 minutes. (This makes great sandwiches, we like roast chicken and havarti cheese)
Oh my goodness! This recipe is wonderful! Sadly, I forgot to start the pre-ferment the night before, so I did it first thing Saturday morning. (Not sure why directions say to use a "non-metal" bowl - "non-reactive" bowl, maybe? I used the same stainless bowl I always use for bread with no problem.) Saturday evening (12 hours later), I made the dough and stuck it in the fridge for another 12 hours; when I pulled it out Sunday morning, it had filled the gallon zip-top bag. I turned it out into a lightly oiled bowl and let rise. By noon, the dough was rising above the bowl, and I shaped it into 4 small-to-medium sized loaves (there are just 2 of us - one loaf was perfect for a quick taste, dinner, and toast for one of us the next morning!). The scent of rosemary even while the bread was rising was amazing, let alone while it was baking. . . we did not spray with water while baking - baked the loaves 40 minutes, then brushed with butter when they came out of the oven -- perfect! This recipe is going in my "most favorite" collection! Thank you!
Combine the first four ingredients in a large non-metal bowl and blend well.
Cover and let stand overnight till light and bubbly.
Do not skip this step!
Add the next 5 ingredients and 3 c flour.
Mix in enough of the rest of the flour to make a soft but pliable not quite sticky dough (fingers when touching the dough should come back clean).
Place dough in an oiled bowl turning once to coat both sides, cover and let rise 2 hours.
Place dough on counter (lightly floured if needed) divide in 2 or three equal portions and let rest 10 minutes.
Form into loaf shape and place on greased baking sheet, do not make to thick or this will never get done in the middle.
Let rise till doubled.
Just before baking slash the tops with a sharp knife 4-5 times.
Spray dough and inside of oven w/ water (will need to repeat at least every 15 minutes) and bake in a 350 oven 1 hour for large loaves and 45 minutes for regular sized. Watch carefully to prevent overbrowning. May need to increase bake time depending on the area you live.