Sourdough Raisin Walnut Bread (Abm)
Katzen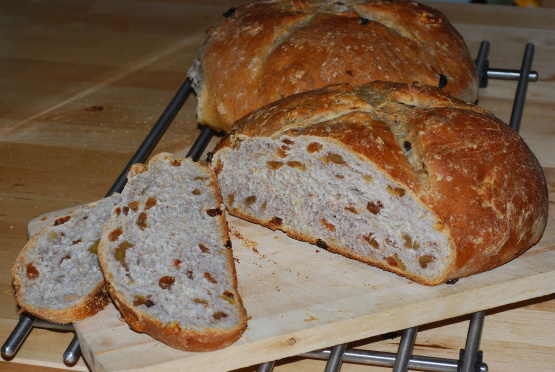 About a month ago, my landlord told me about a bread that he and his wife love, made by a local bakery, Ace Bakery. I thought I would try to mimic the recipe and make some for them, so I had a peek on their website to see what ingredients are in it, only to find it contained sourdough, which I'd just become interested in making. Fast forward to a month later, I have a healthy starter, and gave this a try with excellent results! Many thanks to chef #2586, whose Sourdough Sunflower Bread gave me the basic tools to create this one from. Cooking time does not include time for bread machine to process.
Place all ingredients, except raisins and walnuts, into bread machine pan, in order that they are listed. Process on dough setting. When the machine beeps for additions, add the raisins and walnuts (or around 3-5 minutes before the end of the kneading cycle.).
When cycle is complete, remove dough to lightly floured surface and shape into 2 round loaves (or one large loaf, your choice.).
Place round loaves on cornmeal coated cookie sheet, cover and let rise until bread has doubled in size. Be patient, sourdough without the addition of commercial yeast can take up to several hours to rise - mine typically takes three hours.
Bake at 375 degrees F for 25 to 30 minutes (30-40 if making one loaf.) Cool on wire rack.
NOTE: To proof your starter, feed it with equal parts of flour and lukewarm water, then let it sit overnight or up to 12 hours, covered. This is what develops the characteristic sour flavor and the longer the proof, the sourer it will be. If you start with 1 cup of starter and feed it 1 cup each of water and flour, you should have enough to make your bread and save the rest to start your next batch.