Sourdough Pancakes (Amish Friendship Bread Starter)
jenne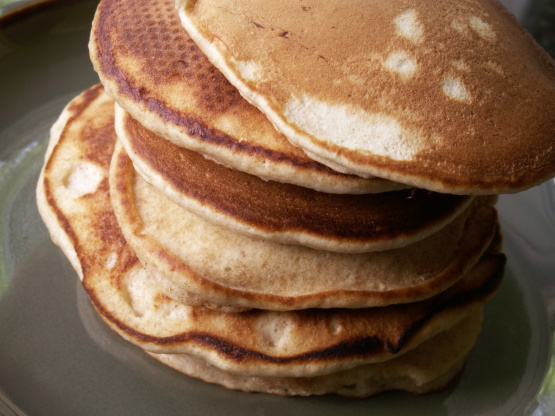 These are great pancakes made with Amish Friendship Bread Starter. I am always looking for new and creative ways to use my starter!!! These pancakes smell fabulous, and are a bit sweet with yeast flavors. I thought they were great with just butter on top. I sometimes add cinnamon or Apple Pie Spice and sub out apple butter for the oil. . .just an idea!
Beat the egg, then add in wet ingredients.
Add dry ingredients to the wet ingredients and mix well.
If batter seems too thick, add more milk 1 Tbsp at a time until desired consistency.
Preheat griddle pan to med-high, spray with non-stick cooking spray and pour batter onto griddle using 1/4 cup of batter per pancake.
Once pancake looks set around the edges and a few bubbles are coming up thru the middle of the pancake, turn it over and cook another minute or two until done.
Serve hot with butter.