Sourdough Nut Batter Bread
PaulaG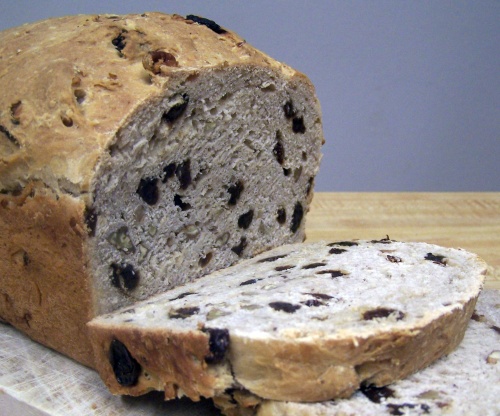 No kneading is required for this bread. Beat either by hand or with an electric mixer.

I needed to use up some sourdough starter, so I thought I would give this a try. It rose beautifully, but I was not fond of the taste. I like a sweeter raisin bread, I may try to make again, adding a lot more cinnamon and sugar. Will update when I do.
Measure the starter into a large mixing bowl.
Melt butter; add milk and warm to 85 degrees F.
Add the salt and sugar and stir until dissolved.
Add this mixture to the starter and mix well.
Stir in nuts, raisins, and spices.
Add the flour, 1 cup at a time, mixing vigorously for 1 minute or so between cups.
Grease a 4 1/2 x 8 1/2-inch loaf pan and spoon batter into pan.
Proof, covered, at 85 degrees F for 1 to 2 hours, or until dough rises 1/2 inch above the edge of the pan.
Preheat oven to 350 degrees F.
Bake for about 45 minutes.
Remove loaf from pan and cool on wire rack.