Sourdough Malt Beer Bread
duonyte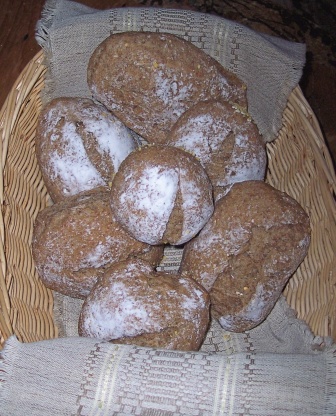 Experiment with different beers in this bread.
This bread had a wonderful taste, but even after an eight hour rise, it hadn't doubled! I had to bake it then anyway, since my guests were about to arrive and we needed it for supper. I'll definitely make this again, hoping it will rise better next time.
Sourdough Build: Mix the first four ingredients together. Cover loosely and let sit at room temperature for 12 to 16 hours.
Dough: Measure out 2 cups of the sourdough build mixture (discard extra).
Add beer, salt, sugar and butter.
Mix in the flours.
Turn dough out onto a lightly floured surface and knead until it is smooth and satiny.
Cover dough and let it rest for 20 minutes.
Shape into desired loaf--freeform or pan loaf.
Proof, covered, until dough doubles in size. this may take several hours.
Preheat oven to 375°.
Slash loaf with a very sharp blade.
Bake for 30 to 50 minutes, depending on shape of loaf.
Remove from pan (if used) and cool on wire rack.