Sourdough Feta Dill Bread (Bread Machine)
duonyte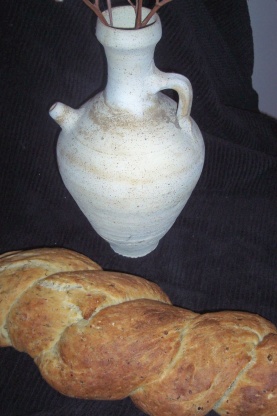 I love the feta dill bread by Barb Gertz, but I wanted to convert it to a sourdough version. This is what I came up with. Time is approximate, as starters can be variable, and does not include time for sponge to develop. Try baking this as rolls for sandwiches.

As usual Duonyte with any of your recipes this one was no exception and was 5 stars all the the way. When I saw the combo of feta and dill with the sourdough just knew I had to try it and was not disappointed. I used my San Fran starter and followed the directions to the lettere and it turned out great. Had that nice crusty outside with a soft, slightly holey (is that a word) interior that I love in a rustic bread. The dill and feta made a wonderful taste combo that had us eating this instead of dinner and there was nothing left for the next day. Thanks for a great recipe with an exciting taste sensation that will be perfect for friends when I really want to show off.
Prepare sponge: mix together the water, 1 cup flour and starter in a medium bowl. Cover and set in a warm space. Sponge will take 8 to 24 hours to develop. If you are not ready to bake, it will hold for a couple of days in the refrigerator.
Set bread machine to dough cycle. Place sponge and all remaining ingredients in pan in order recommended by the manufacturer. When the dough is completed, transfer it to a large oiled bowl, cover and let rise until doubled.
Remove and shape loaf as desired. Cover and let rise until doubled. The dough is slightly sticky, and I like to turn it out onto an oiled, not floured, board.
Bake in preheated 400 deg. oven for 30 minutes, or until it reaches an internal temperature of 200 to 205 degrees.
Note1: Starters vary considerably about how much time they need to double the loaf. If you are not confident about your starter, you can add 1 teaspoons instant yeast with the dry ingredients to ensure a prompt rise.
Note2: As with all bread recipes, check the texture of the bread early in the cycle and add additional flour or water, as needed. Feta is variable in the amount of moisture it contains.
Note3: Unless you know that your sourdough is strong, you may wish to shape immediately after the dough finishes kneading, and let it rise only once.