Sourdough English Muffins
dazeeto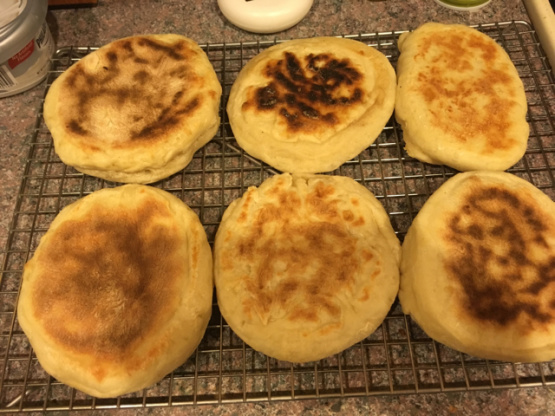 Nothing beats homemade muffins fresh off the griddle. These are light and airy. The recipe calls for 1 package dry yeast, depending on how active your sourdough is you may choose to eliminate it. As all sourdough is somewhat different experiment and see what works best for you. I use an Alaskan sourdough recipe. For mixing the dough I used my Kitchenaid Mixer and dough hook. This recipe comes from Best of the Best from Alaska Cookbook and I have made minor adjustments for personal taste.
Top Review by Paka
Thank you, thank you, thank you for this wonderful recipe! Lots of little nooks and crannies to trap the butter! I cheated for the "starter" and used the overnight method in recipe #271717 which is a fantastic loaf of bead in case you're interested. I also used my bread machine but only made 1/2 batch so it wouldn't ooze out of the pan! I rolled out and cut some of the muffins but ended up simply rolling the dough into a ball with my hands and flattening them before placing on the cornmeal dusted sheet to rise. The hand rolled ones were beautiful but the rolled and cut ones did not rise well. For the life of me I can't figure that one out! Anyway, this is the best English Muffin recipe and I can't wait to surprise my kids when they visit! Not like store bought...better. Thanks.
1

(1/4 ounce) package dry yeast

1

teaspoon sugar
1⁄4 cup warm water
1⁄2 cup scalded milk

1

cup water
1⁄2 cup sourdough starter
1⁄4 teaspoon baking soda

1

teaspoon salt

4

cups sifted flour (I use 2 cups white flour and 2 cups whole wheat)

3

tablespoons melted butter
oat bran
The night before, feed sourdough starter as you normally do.
The next morning take out 1/2 cup starter for use in the muffins.
Sprinkle yeast and sugar over 1/4 cup warm water.
Allow yeast to become bubbly.
Heat milk to lukewarm, add remaining 1 cup water, sourdough starter, baking soda, salt and yeast to large mixing bowl.
Add half the flour and beat well with electric mixer or a wooden spoon.
Cover bowl and let rise to double in bulk, this depends on the weather but takes approximately 45 minutes to 1 hour.
Add melted butter and remaining flour beating and kneading thoroughly.
Cover and again allow to rise until double, approximately 45 minutes.
Turn dough out on board dusted slightly with flour and either corn meal, oat bran or wheat germ.
Flatten with rolling pin to 3/4-inch thickness.
Cut with a 2-1/2 inch diameter cutter, place on cookie sheets that have been sprayed with non-stick cooking spray.
Allow muffins to rest and rise for about 15 minutes or until light.
Spray griddle or heavy skillet with non-stick cooking spray and preheat until water sizzles when dropped on griddle.
Cook the muffins on preheated griddle for approximately 15 minutes, turning several times.
When ready to serve, split in half with fork, toast lightly and top with favorite toppings.
Note: The preparation time includes feeding the starter overnight.