Sourdough Cinnamon Swirl Bread
Cass81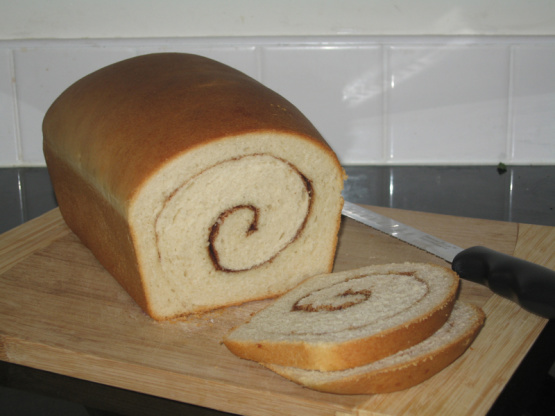 My favorite sourdough bread. I make this 2 or 3 times a month.

This bread was great and I will be making it again. I spread butter and sprinkled cinnemon but forgot the sugar. It was still good. I used good bubbly starter and yet it still took 5 hours to rise with most of the rise coming in the last hour. Next time I will roll it tighter and not forget the sugar. We love this as toast even when just baked.
Put ingredients into bread machine in the order in which they are listed.
Run through the dough cycle but remove dough before it rests to rise.
Roll out dough on lightly floured surface into a rectangle.
Spread with softened or melted butter and sprinkle with sugar and a very generous amount of cinnamon.
Roll up tightly, as for cinnamon rolls.
Moisten edge with water and seal.
Place in greased pan (s), cover and let rise until double.
Be patient, as rising time is totally dependent on your starter and how active it is.
Uncover and bake at 350 degrees F for 25 to 30 minutes, or until golden brown.
Brush tops with butter.
Remove from pan and cool on rack.
Note: You can make this into one large loaf, or several mini loaves.