Sourdough Chocolate Cake With Mocha Frosting
K1968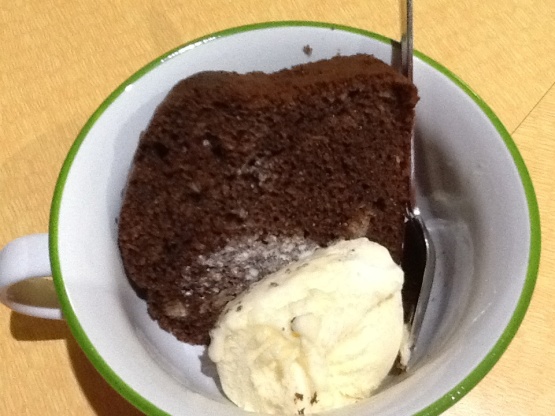 Another way to use your sourdough starter. Don't worry it won't have a sour taste, just a rich chocolate flavor! Found this recipe on King Arthur's site. Time indicated does not include proofing time for the starter. Note: Because starters vary in thickness, the amount of flour and milk may vary slightly.

Top Review by K1968
Great recipe, I love a recipe where I can use some of my starter. Mine took about 20min longer to cook than the recipe stated but it was worth the wait. I did not make the topping just served it warm with ice cream as a desert and it went down well. It does make a large cake so there was plenty left for lunches the next day.
Combine the "fed" starter, milk, and flour in a large mixing bowl. Cover and let rest at room temperature for 2 to 3 hours. It won't necessarily bubble, but it may have expanded a bit.
Preheat the oven to 350°F Lightly grease a 9" x 13" pan.
In a separate bowl, beat together the sugar, oil, vanilla, salt, baking soda, and cocoa. The mixture will be grainy.
Add the eggs one at a time, beating well after each addition.
Gently combine the chocolate mixture with the starter-flour-milk mixture, stirring till smooth. This will be a gloppy process at first, but the batter will smooth out as you continue to beat gently.
Pour the batter into the prepared pan.
Bake the cake for 30 to 40 minutes, until it springs back when lightly pressed in the center, and a cake tester inserted into the center comes out clean.
Remove the cake from the oven, and cool on a rack while you make the icing.
Sift the confectioners' sugar into a large mixing bowl, and set it aside.
In a small saucepan set over medium heat, melt the butter and add the buttermilk or yogurt. Dissolve the espresso powder in the hot water, add to the pan, and bring the mixture just to a boil.
Immediately pour the simmering liquid over the confectioners' sugar in the bowl, and beat till smooth.
Pour the warm frosting over the cake.
Combine the chocolate chips, milk, and corn syrup in a microwave-safe cup. Microwave till the chips soften, then stir till smooth.
Drizzle the chocolate over the icing. (This can be done immediately or you can wait until the cake is cooled.).
If desired sprinkle chopped nuts on top.