Sourdough Cheeseburgers for 2
Nimz1466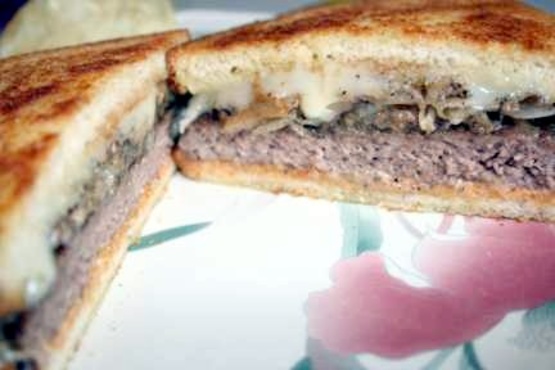 I got this recipe out of one of those little coupon booklets that come with some of the recipe magazines. Not sure which one, but probably TOH or QC. I added the mushroom, simply because we love them. As empty nesters, I am always on the lookout for recipes that are already geared toward two servings. This recipe was one of those.
Combine mayo, ketchup and relish in a small bowl.
Cover and refrigerate.
Shape beef into 2 patties, season with salt and pepper, and pan fry in a large skillet over medium heat for 4-5 minutes on each side (160 on meat thermometer).
Remove and keep warm.
In the same skillet, saute onion and mushrooms in 1 Tablespoon butter.
Saute until tender.
Remove and keep warm.
Using 2 Tablespoons of the butter, butter one side of each slice of bread.
Melt remaining butter in skillet; low heat.
Place bread, buttered side up in skillet and cook until golden brown; 2-3 minutes.
Turn and top the bread with the Swiss cheese.
Cook 2 minutes longer or until cheese is melted.
To serve, place toast, cheese side up on plate.
Top with a burger, relish mix, onion/mushroom mix and remaining toast.
Serve with dill pickle spears and chips.