PaulaG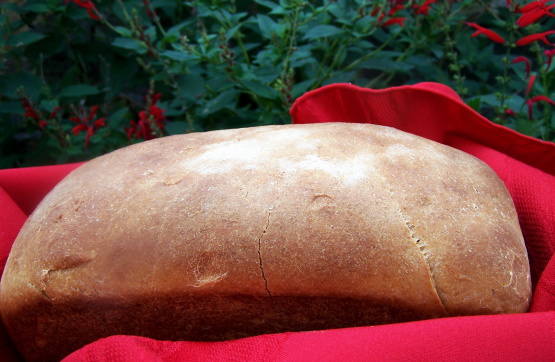 This is something I came up with when I had some leftover proofed sourdough starter that I needed to use up. And it turned out to be yummy! I used my KitchenAid mixer to mix and knead the dough, but I suppose you could make this dough in your bread machine, then pull it out, shape it and bake in the oven. Note: Prep time does not include rising time.
Top Review by PaulaG
This is a wonderful bread with a touch of sweetness. I increased the ratio of white to wheat flour and used sorghum molasses in place of regular molasses. Mixed this up using my KitchenAid. I really enjoyed the fact that you mix it in the mixer and it only has one rise. Makes quick work of bread baking.
If using an ABM, place ingredients in bread machine pan in order according to the manufacturer's specifications.
Select dough cycle and press start.
If using KitchenAid mixer, or doing by hand, combine all ingredients and knead.
Turn dough out onto lightly floured surface and shape into desired loaf.
Place in greased loaf pan and let rise, covered, until dough has doubled.
Uncover and bake at 350 degrees for about 30 minutes, or until bread sounds hollow when tapped.
Immediately remove from pan and let cool on wire rack.
For a soft crust, brush top with melted butter.