Sourdough Banana Nut Waffles
PaulaG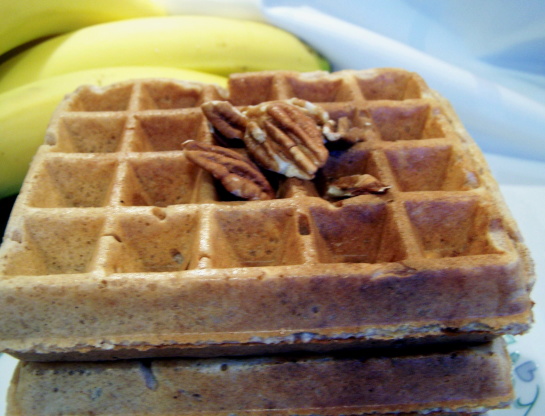 Here is another great use for your sourdough starter. These waffles have a hint of spice and bake up crisp and golden. They freeze well and can be popped into the toaster oven for a quick breakfast treat.

I'm sure the recipe is great as is, but it was a great starting point for me. I didn't have banana extract, so I used vanilla, 3 bananas, and reduced the milk. For spices, I used 1 tsp cinnamon, 1/2 tsp ginger, and 1/4 tsp nutmeg. I also used dark brown sugar instead of regular white sugar.
The night before, feed the starter as you usually would. The next morning measure out 1 cup of starter and return remainder to crock.
Preheat your waffle iron.
In a large bowl, stir the baking powder, soda, flour, sugar and spices.
In a small bowl lightly beat the egg yolks until light and lemon colored, stir in the mashed banana, extract and butter.
Stir the banana mixture into the flour along with the stater and milk; stir to combine well; stir in nuts.
Beat the egg whites until light and fluffy, fold into batter.
Pour batter, about 1/3 to 1/2 cup per waffle into the waffle iron and bake until golden brown.
Makes about 10 waffles that measure 3 1/2 inches x 4 inches.