Sourdough Apple Oatmeal Spice Bread
Katzen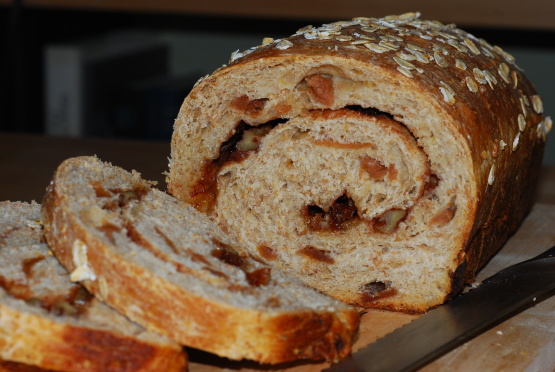 I love eating this bread for breakfast. It is actually pretty healthy, too. Chopped walnuts or pecans can be added, if you wish. This recipe is one of my original creations.

Top Review by Katzen
I was hesitant to try this bread... I didn't have dried apples on hand, and I'd never made bread of this kind before. Having said that, I am SO glad that I did! The loaf came out so moist and with beautiful flavour; subtle and not overpowering. I used two apples, cored and diced, and rolled oats in place of the rolled wheat flakes (which I'm embarassed to admit I am not at all familiar with.) I also upped the ww flour from 1 cup to 2, and decreased the white from 3 1/2 cups to 2 1/2. As you can see from my photos, I made one (large) loaf, instead of two small ones... although I'm not going to pretend that wasn't an accident - but it is one I'll definately repeat! **Made again with the dried apples, and it's so much easier to make this way! I did make it into two loaves, one of which I rolled out into a rectangle, spread with butter, brown sugar & cinnamon, and pecans, and rolled up before rising the last time - delish! What a beautiful recipe! Thanks, Donna!
Bring the 3/4 cup of water to boil in a saucepan.
Stir in the oats, turn heat to low and cover pan.
Cook for 8 minutes, then cool to lukewarm.
Place dried apples into a bowl or glass measuring cup and pour 1/3 cup water over them.
Cover the container with a plate or plastic wrap and microwave for 1 minute.
Set aside, with cover intact, and let cool.
In a large mixing bowl, combine starter, water, milk powder, cider mix, sugar and butter.
Stir in the cooled oats and apples.
Add the rest of the ingredients and mix until it is a shaggy mass.
Turn out onto a lightly oiled surface and fold the dough over onto itself repeatedly until it is supple and elastic.
This dough should be quite soft and tacky, so don't add a lot of extra flour.
Let the dough rest for 30 minutes, then fold it like a letter, turn 90 degrees and fold again.
Wait another 30 minutes and repeat the foldings.
Cover dough and let it rise until it is not quite doubled.
Divide the dough into two portions and shape into loaves.
Place in two loaf pans, about 4" x 8" that have been greased.
Cover and proof until dough crests about 1" above rim of pans.
Bake loaves at 375°F for about 45 minutes, rotating loaves halfway through the bake time for even browning.
Turn bread out of pans onto a cooling rack immediately upon removing from oven.
Cool at least 1 hour before slicing.
Serve toasted or cold--I like to make a cream cheese spread by mixing some more of the spiced cider mix (to taste) into cream cheese.