Sourdough Apple Crumble Cake
K1968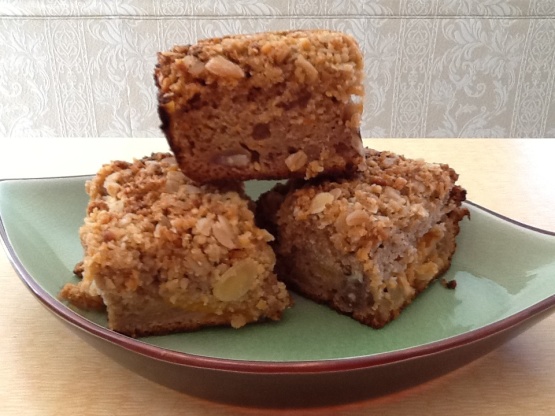 I like this recipe as it is a good one to use up discarded sourdough starter. It is moist, tasty, quick and easy to make. It can be varied depending on what fresh or dried fruit you have at hand, it is also nice with pecans added to the cake mix, even different spices....just a very versatile recipe. It also stores very well in the fridge up to a week.

Yummy! I substituted for the 2/3 cup honey, 1/3 cup sugar and 1/3 cup maple syrup. You do not need to peel the apples. Added 1tsp vanilla to wet ingredients. My spice mix was 1 tsp cinnamon and pinch each of ground cloves, allspice and nutmeg. Did not put nuts in topping, and still delicious!
Pre heat oven to 375 F/180°C
Grease 9x9 pan.
CAKE. Sift flour, baking soda, salt and spice into a bowl, make a well in the centre add sourdough starter,vegetable oil,egg and honey. Mix till all ingredients are well combined. Dice the apples and fold through the cake batter. (I have used tinned apples successfully in this recipe). Pour into prepared pan.
TOPPING. Soften the butter slightly in the microwave, roughly chop the pecans. Mix all topping ingredients in a bowl till they form a crumb. Sprinkle evenly over the cake batter.