Sour Cream Substitute for Tacos
CoffeeB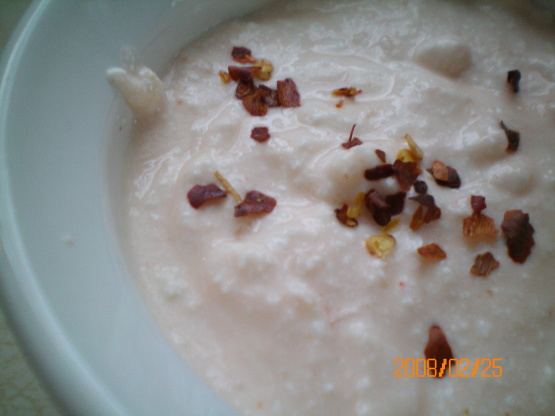 So I didn't have any sour cream one night for tacos, but I did have cottage cheese. So this was born, not quite like sour cream, but good just the same.

A really useful recipe for regular cottage cheese eaters for times when they may not have any sour cream on hand! I used to eat a lot of cottage cheese but don't now: just got out of the habit so making this was a reminder that this is a useful and healthy alternative to other higher fat cheeses. I added two teaspoons of lime juice and minced onion and garlic but omitted the hot sauce (personal taste preferences) and enjoyed this on rye bread topped with sliced tomato and basil. Thank you for sharing this recipe, MsSally! Made for EVERY DAY IS A HOLIDAY!
Mix all ingredients in food processor until smooth.
Serve over tacos or any other Mexican type dish.
Probably would be good over baked potatoes or chili also.