Melenie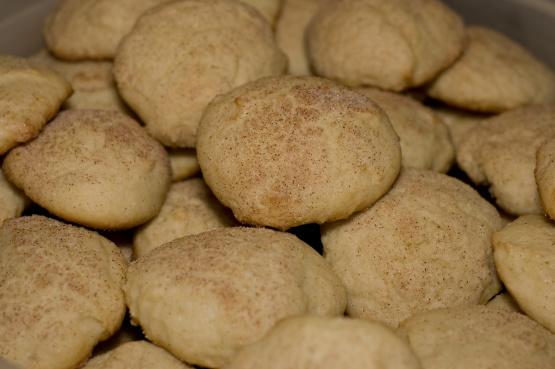 This recipe appeared about 30 years ago in Family Circle magazine: Cinnamon-sugar "frosts" the tops of these big old-fasioned puffs. They are soft and a bit cakelike and puff up high in the center. I have added chocolate chips to these sometimes too and they were quite nice like that as well :-)

I am so happy I tried this recipe. The taste of these cookies reminds me of something from my childhood! I only made half the recipe, just to be sure I was going to like them, and now I am really sorry I didn't make the whole thing. My daughter loved them too, and she doesn't usually care for anything that I make a fuss over, typically 12 I guess!! thanks, these will be made again!!
Measure flour, salt, baking powder, and soda into a sifter.
Cream butter or margarine with sugar until well blended in a large bowl: beat in eggs and vanilla.
Sift in flour mixture, adding alternately with sour cream to make a thick batter.
Drop by by rounded Tablespoonfuls, 4 inches apart, on greased cookie sheets; spread into 2 inch rounds; sprinkle with cinnamon-sugar.
Bake in hot oven (400°F) 12 minutes, or until lightly golden around the edges.
Remove from cookie sheets; cool completely on wire racks.