Sour Cream Rye Bread (ABM)

The wonderful taste of a sourdough bread without using a starter. Bake time is according to your bread machine. Recipe found on the internet.
Directions
Place all ingredients in the pan according to the manufacturer of your bread machine.
Select basic/white cycle and medium crust color.
Do not use delay cycle.
Remove baked bread from pan and cool on a wire rack.
Most Helpful
*Updated June 28/07: Yup, the fat-free sour cream was definitely the problem. Make sure to use regular, full-fat sour cream!! Or supplement the fat-free with 2-3 tbsp. margarine. I also added a little extra vinegar to intensify the flavour a little. NOW I will definitely make this again and again!! June 27/07: Okay, something went horribly, horribly wrong here. I actually threw out the first loaf half-way through the bake cycle because it hadn't risen at all and I thought I'd only put 2 c. of flour instead of 3. I tried it again, but the same thing happened. The flavour is good, but it didn't rise at all. Could it be because I used fat-free sour cream? That's the only thing I can think of. I love the idea of not needing starter for sourdough, but I'm not sure I'll try this again unless someone can confirm what the problem was.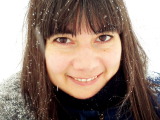 This is really good! I mixed the warm water with the sugar and yeast and let sit while I mixed the other ingredients in a bowl. Once I mixed them all together I kneaded the dough until it was not sticky anymore. Then let rise and baked it in the oven at 350 for about 30 minutes. It was perfect!! I like the little bit of sour taste and the mild rye flavor. Great recipe and super easy! Will make again!
This is the first ABM recipe I have tried that had a true rye bread flavor. I added a teaspoon of onion powder. Next time I'll add a little more--and there WILL be a next time. Thanks for posting this delicious recipe!