Sour Cream Rye Bread (ABM)
twissis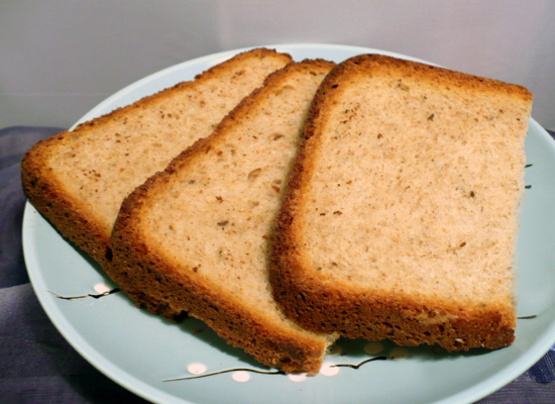 The wonderful taste of a sourdough bread without using a starter. Bake time is according to your bread machine. Recipe found on the internet.

*Updated June 28/07: Yup, the fat-free sour cream was definitely the problem. Make sure to use regular, full-fat sour cream!! Or supplement the fat-free with 2-3 tbsp. margarine. I also added a little extra vinegar to intensify the flavour a little. NOW I will definitely make this again and again!! June 27/07: Okay, something went horribly, horribly wrong here. I actually threw out the first loaf half-way through the bake cycle because it hadn't risen at all and I thought I'd only put 2 c. of flour instead of 3. I tried it again, but the same thing happened. The flavour is good, but it didn't rise at all. Could it be because I used fat-free sour cream? That's the only thing I can think of. I love the idea of not needing starter for sourdough, but I'm not sure I'll try this again unless someone can confirm what the problem was.
Place all ingredients in the pan according to the manufacturer of your bread machine.
Select basic/white cycle and medium crust color.
Do not use delay cycle.
Remove baked bread from pan and cool on a wire rack.