Prep 15 mins
Cook 45 mins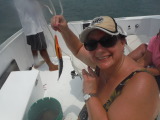 My friend Michelle just gave this to me - haven't tried it yet
Directions
Cook the bacon in a heavy soup pot until they start to brown.
Add the onion and celery, cook until soft.
Sprinkle in the flour and cook for three minutes, add water and broth.
Add potatoes and slowly bring to a boil. Reduce heat and simmer until the potatoes are soft (30-40 minutes).
In a separate bowl ladle in 2 cups of the soup broth. Whisk sour cream into broth until blended.
Whisk mixture back in to the soup. Heat 3 minutes longer, adjust seasonings with Salt & Pepper to taste, ENJOY!
Most Helpful
This recipe was a gr8 base. I felt the recipe was bland however. Not only did I dlb it, and use all chicken broth, I added 1/2 cup butter, 1 and a 1/2cups cheddar/jack cheese, Tarragon, Grnd Cumin Seed & Celery Seed-1 to 1 and a 1/2 tsp ea, and a dash of Garlic Salt.

I love this soup! I've been making it for years and I almost always double the recipe. I also make mine with double the bacon (ummm...bacon) and use all chicken broth and no water. Delish!
This is one of the best tasting recipes for potato soup I have tried! I even looked it up special for my sister when stateside on vacation to make sure I did it right and now it is a favorite of her family's and her inlaws too!!!