Sour Cream Potato Salad - Kartoffelsalat Med Surfløde
Prep 30 mins
Cook 10 mins

A well seasoned and interesting potato salad submitted for the 2005 World Tour. Have not tried this yet but welcome your feedback. Note cooking time does not include preparing potatoes.
Directions
In a large soup pot add uncooked diced potatoes and water to cover. Bring to boil and cook until potatoes are tender. Drain and rinse potatoes.
Combine the cooked potatoes, cucumber, onion, celery seeds, salt and pepper. Toss lightly.
To prepare dressing combine hard boiled egg yolks with the sour cream, mayonnaise, vinegar and mustard. Add to the potato mix and toss very lightly.
Let stand 15 minutes before serving.
Garnish with chives or scallions.
Reviews
Most Helpful
I always disliked the texture of egg whites in my potato salad, so I was grateful this recipe omitted it, and liked the crunch of cucumbers. (Sorry evelyn.) I ate the egg whites before dinner with some salt & pepper:D My suggestion is to add more vinegar and mustard (like the tang and bite), and I also suggest adding bacon bits (vegetarian baco chips in my case) to this delicious, creamy, but not totally guiltless potato salad. Also, I substituted low-fat yogurt instead of low-fat sour cream because I think it tastes better. Oh, I also added more red onions instead of regular for more color. Thanks Toni!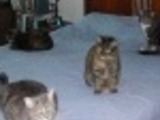 This was really good potato salad - the cucumber makes it and is a little different. It is sort of the celery or pickle substitute (but less crunchy). I doubled the cucumber, but could have put in even more. For our tastes, I left out the egg and added less salt. This is a super creamy potato salad, much like a traditional potato salad. Even though it does have sour cream in it, it is not a prominent flavor.

Yum! I used Yukon gold potatoes, low fat yogurt (Greek so as thick as sour cream) and low fat mayo, sherry vinegar and topped with both chives and scallions. Very light and refreshing salad. Thanks, Toni!