Kagemi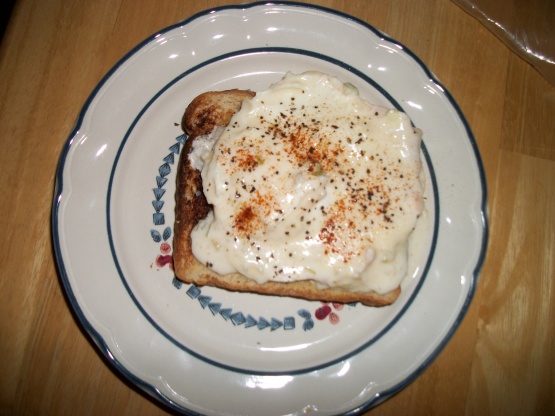 A new twist on poached eggs. ***NOTE**** Cooking time can vary depending on the wattage of your microwave.

Top Review by Ms B.
This is an interesting twist on poached eggs, not quite an eggs benedict, but not just a plain egg. The sour cream and green onions are a nice flavor blend with the eggs. I had not previously made poached eggs in the microwave, and found that even at 60% power, my yolks were hard after only 2 minutes. I will have to play with the timing in order to figure out the perfect settings for my microwave. I do love a runny egg and toast. :)
Place sour cream in microwaveable container.
Add chopped green onion.
Make a well in the sour cream and break in 2 eggs.
Cover and microwave at 60% power for 2 1/2 to 3 1/2 minutes, or until whites are cooked.
Sprinkle with paprika and serve on toast.