2Bleu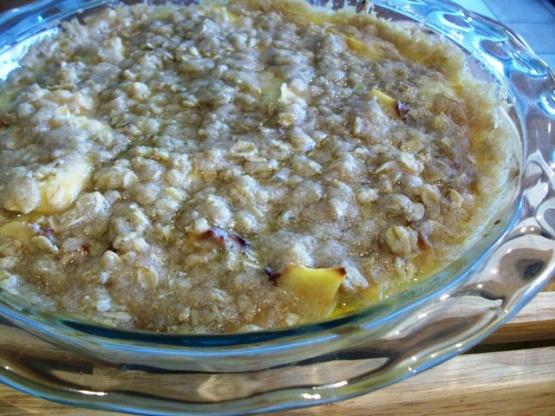 For those who love pies AND sour cream, here's a nice variation, courtesy of a local newspaper clipping from years ago. Although this recipe calls for fresh peaches, it has been made at times with canned peaches, but needless to say, fresh peaches are the best! [NOTE: Edited on 8 Apr 2011 to include the pie shell in the ingredients, as per 2Bleu's review suggestion!]

A very tasty pie!! I used the recipe for the filling and added 1/2 teaspoon fresh grated nutmeg; I had 4 cups of fresh peaches. I did not make the topping as I wanted to serve the pie with whipped cream. It looks and tastes wonderful!!
FOR THE PIE:.
Preheat oven to 375 degrees F.
Peel & slice peaches.
Mix peaches with other filling ingredients.
Pour into an unbaked 9"-10" deep dish pie shell.
Bake about 30 minutes, until pie is slightly brown.
While pie is baking, prepare the topping.
FOR THE TOPPING:.
Blend cold butter, sugar, flour & cinnamon with pastry cutter, until crumbs are the size of small peas.
Sprinkle topping evenly over pie, & bake another 15 minutes.
Cool to room temperature, then chill in refrigerator before serving.