Chickee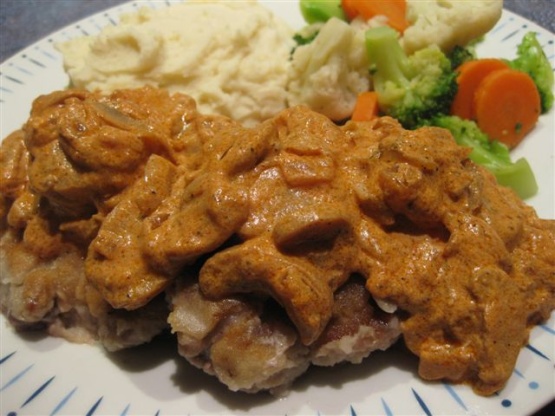 Pork fillet topped with a yummy sour cream paprika sauce.
I make this a lot for me and my hubby I buy pork fillet that usually vary in weight from 420g-460g for the two of us and this is perfect for us.
Slice pork diagonally (allow 3-4 slices per person) and beat with a meat mallet to flatten slightly.
Heat some olive oil in a pan. Dust pork with flour and shake away any excess flour. Place pork in pan and cook until browned on both sides and tender.
For the Sauce.
Heat about a Tablespoon of olive oil in a pan, add onion and garlic and cook until soft. Add the butter to the pan along with the sliced mushrooms cook until mushrooms are tender.
Add Worcestershire sauce, tomato paste, paprika, water, chicken stock and lemon juice. Simmer for a few minutes and pour in sour cream stir until heated through.
To serve place sliced pork on plate and pour sauce over. I served mine with cauliflower mash and garlic butter vegetables.