MnMs Mom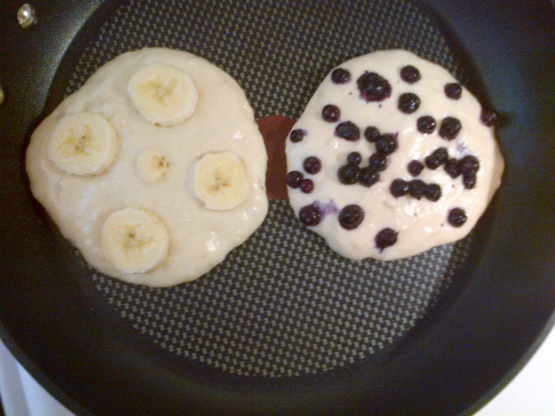 I found this in the March 2007 Chatelaine magazine and the whole family loved it.

Wow, just wow. I'm not a big pancake person, but I could have eaten 100 of these. Sweet, light and fluffy, they don't need any syrup or even butter on them (I put homemade strawberry syrup on my first plate and it seemed like blasphemy). I thought the batter was a little thick after I put my first three on the griddle, so I thinned it with more milk to avoid the typical pancake brick that usually happens, but when I took those 1/2 thick pancakes off and tasted, they still were perfect and fluffy inside (the thin ones were also excellent). The only things I changed was using soymilk and vegan sour cream due to a milk allergy. Thanks so much Free Spirit, I will never complain again when my family wants pancakes for dinner!
Microwave 2 tbsp (30 mL) butter in a small bowl until melted.
In a large bowl, using a fork, stir flour with sugar, baking powder and salt. Make a well in centre.
In a medium bowl, whisk eggs with milk, sour cream, melted butter and vanilla.
Pour into flour mixture and stir just until mixed.
Immediately melt about 1 tsp (5 mL) butter in a large frying pan set over medium heat. (Or save time by cooking on a large griddle or simultaneously in 2 pans.) Use a 1/4-cup (50-mL) measure to pour batter into hot pan. Depending on size of pan, add 1 to 3 more pancakes. Cook until surfaces are covered with bubbles and edges are lightly browned, from 2 to 3 minute Turn and continue to cook until pancakes are golden, from 2 to 3 minute.
Place on a plate and keep warm in a low-temperature oven while cooking remaining pancakes.
Delicious drizzled with maple syrup and scattered with fresh berries. Great with bacon or sausages.