Sour Cream Nut Pie - Nøddetærter Med Flødecr
Annacia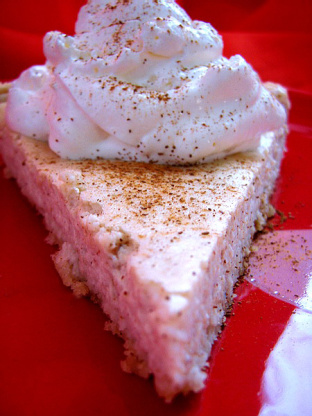 Found in a collection of Danish recipes online - posted for ZWT 3, Scandinavia.

Top Review by Pneuma
doubled the recipe since the pic slice of Annacia seems thick and my pan seems to be slightly thicker. I mean w/o doubling the ingredients it hardly seem to cover all the surface of the crust. Is it supposed to be like that? Anyway, it was nutty, tasty and easy to whip up since almost all can be blended at once. I used a different pie shell and potato starch instead of cornstarch and it still came out great and love the smell of cinnamon and cloves while baking! Served this with vanilla ice cream on top for me, while MIL ate it as is. "It's good!" she kept repeating. :yummy: Thanks, Pattikay in LA!
Beat the eggs well. Add the remaining ingredients, except the nuts, and mix well.
Pour mixture into an unbaked pie shell which has been lined with ground nut meats.
Bake 5 minutes in a preheated 450º oven. Lower heat to 325º and bake 40 minutes more, until firm.