Sour Cream Noodle Delight
Nif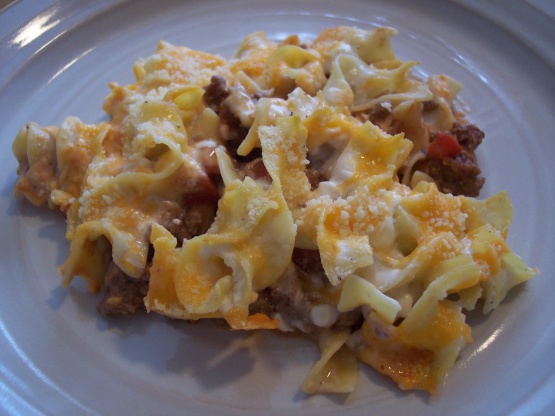 Delicious and simple "comfort food" are my favorites in the fall and winter. My DH and I like to have this with a simple tossed salad. I found this recipe in a church cookbook and have changed it up a bit to make it my own! Note --original recipe does not specify type of cheese but I have used either cheddar or colbyjack with good results. **For OAMC - this recipe doubles really well and can be frozen up to 1 month. hmmm the oven temp disappeared! Should say preheat oven to 350F.
I skipped the mushrooms since I didn't have any fresh and think canned are gross. Put two little red, and two little yellow peppers through my mini chopper with part of a large onion, so dd wouldn't notice them in the sauce. Used fresh grated Parm, Romano, mozzarella, and old cheddar (to finish up bits of each). Was delish and I'm freezing about half in two portion to use as a side, maybe with chicken.
Preheat oven to 350 degrees.
Cook noodles, drain.
Brown meat with onion and green pepper.
Add seasonings and tomato sauce to meat mixture.
Simmer 5 minutes.
Combine cottage cheese, sour cream, 1/2 cup shredded cheese and cooked noodles.
Place 1/2 of noodle mixture in greased casserole. Cover with the meat mixture. Put rest of noodle mixture on top.
Sprinkle with 1 cup shredded cheese over all.
Bake 20 minutes.
Add Parmesan cheese and bake additional 10 minutes.
***For OAMC/Freezing - Assemble up to the point of baking and freeze. Allow to thaw before baking.