Sour Cream & Mushroom Chicken
Prep 10 mins
Cook 45 mins
I took inspiration for this from a cookbook called "5 Ingredients or less slow cook recipes" I changed up a few things and made this my own.
1 can condensed cream of mushroom soup
1 cup sour cream
1 (8 ounce) can water
3 teaspoons italian seasoning
salt and pepper

Optional
Directions
Preheat your oven to 375 F
Pour soup, sour cream and water into a bowl and mix well.
Add italian seasonings and salt and pepper to taste. Remember that the sour cream is already salty so you shouldn't need much salt at all.
Spray casserole dish with non stick spray.
Place Chicken in Casserole dish.
Cover chicken with the sauce you created.
Sprinkle sliced tomatoes, mushrooms, and green onions on top.
Cook for 30-45 minutes until the chicken is done.
The sauce may seperate a little around the edges, but you can stir it up and it will be just fine.
Serve over noodles or rice.
Reviews
Most Helpful
Very good! I used my tomatoes from my garden. I think I would only add 4oz of water next time to make sauce a little more thick. Really enjoyed ,will be making this again.

Very tasty! I made it in the crockpot so it would already be done come dinner time. Probably could have used less water than the stove would require. I diced up tomatoes and added them during the last 15 minutes. I think green onions would be good too.l served it over noodles as suggested!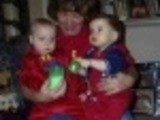 Not a bad dish, nice and creamy. Adding the sour cream early is ok for taste but not presentation. If it's just the fmily at home I wouldn't worry about it, but add it much later if you're having company!