3 Reviews
Very good! I used my tomatoes from my garden. I think I would only add 4oz of water next time to make sauce a little more thick. Really enjoyed ,will be making this again.

Very tasty! I made it in the crockpot so it would already be done come dinner time. Probably could have used less water than the stove would require. I diced up tomatoes and added them during the last 15 minutes. I think green onions would be good too.l served it over noodles as suggested!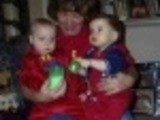 Not a bad dish, nice and creamy. Adding the sour cream early is ok for taste but not presentation. If it's just the fmily at home I wouldn't worry about it, but add it much later if you're having company!

Sour Cream & Mushroom Chicken