gailanng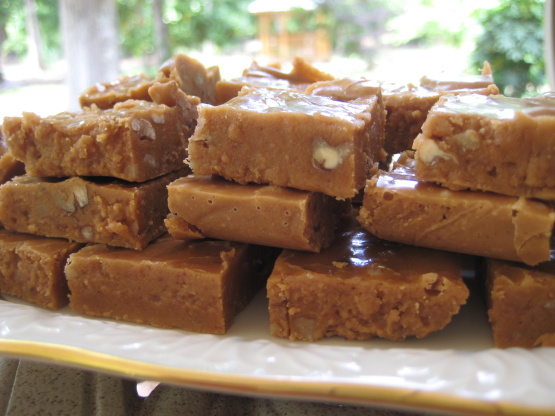 Some time ago there was a request for a sour cream fudge, a thing I'd never heard of at the time. More recently, stumbled on this and decided to post it for those seeking such a treat. Have not tried it so I can't speak for the results. Cooking time is my estimate based on other recipes, go with what shows on your candy thermometer for best results.

I made this the first day I tagged it for Photo Tag Spring (Part 2) and it didn't set properly. Today I made it for a mother's day event. On my first try it was very pale in color, but on my second batch I let it cook until 242 degrees. It was a much darker color and set-up perfectly. The taste is very unusual, almost fruity because of the sour cream's tang. Though liked by everyone, one uncle seemed induced by this fudge. That made me happy enough!
Mix sugar, corn syrup, butter, salt and sour cream together. Cook over medium heat until reaches the soft ball stage, 235 degrees.
Cool to room temperature in the cooking pot.
Once cooled, add walnuts and beat until thick and pour all at once onto buttered platter. Do not spread top, it will be glossy and uneven.
Cut into 24 squares. Keep in covered container chilled.